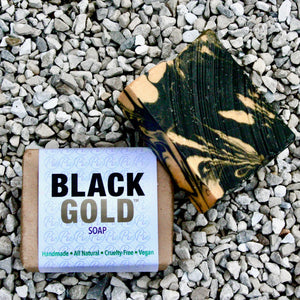 "Black Gold™" Handmade Soap
This is the blackest soap that we make—literally, and it reminds us of the Esperanza Spalding lyrics, "you are black gold with a diamond soul." The activated charcoal detoxifies and soothes as you lather the skin, while the cedarwood, rosemary and lemon tighten and tone the skin, leaving your skin silky and seductively scented.
Ingredients: olive oil, shea butter*, coconut oil*, avocado oil, castor oil, sodium hydroxide (none remaining in the final product), mica, rosemary oil, cinnamon oil, peppermint oil*, lemon oil
Features: Handmade in USA; all natural; cruelty free; vegan; fair trade ingredients (indicated with an asterisk)
Size: 4.5 oz
Cost: $9 
*This item cannot be returned/exchanged
"Black Gold™" Handmade Soap
Excellent Product!
I gifted this to a friend and they asked for the website within a couple of days to buy more. You can't go wrong with any of the products!
Black Gold Soaps
These soaps are amazing. Makes your skin feel silky soft!
The T
This soap is fragrantly enchanting with an amazing blend of humanity, warmth and rich color. Feel clean and energized with Black Gold!
Dope Soap!
This product is 4 real. Great packaging. Excellent smell. Good lather. I'll definitely be getting more from PiE!!