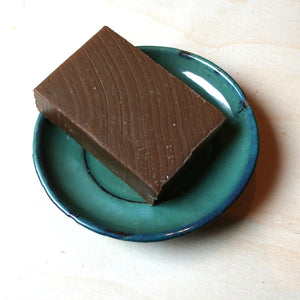 A calming blend of molasses with patchouli and cedarwood form the base of this soap. This creamy lather supports the most dry skin and inhaling the woodsy and herbaceous notes with a hint of lime, anchored by clove calms the most anxious mood. We don't gender soap as "men's" or "women's" because...soap is soap. However, while this bar can be enjoyed by everyone, this scent is a favorite of (some) men, particularly as a conditioning soap for their beards.
Ingredients: olive oil, shea butter*, coconut oil*, avocado oil, castor oil, molasses, cedarwood oil, patchouli oil, lime oil
Features: Handmade in USA; all natural; cruelty free; vegan; fair trade ingredients (indicated with an asterisk)
Size: 4.5 oz
Cost: $9 
*This item cannot be returned/exchanged
Love the Cedarwood Base
I originally bought Bruh for my husband, but I loved the scent so much I bought several so we both can use them. My skin really likes all of PIE's handmade soaps-- I can tell the ingredients are high-quality and add moisture to my skin rather than stripping it. The scent of Bruh lingers a little bit, which I really like, as I can catch a gentle whiff of the clean, woodsy-ness even a few hours after showering. Thanks, PIE, for such wonderful products!
Bruh is the best!
Every since I was introduced to it, it's been my preferred soap! I absolutely love to smell. It's like perfumed cedar wood...cozy and clean
Amazing!
I love this scent! I've not been disappointed by any of the soaps. My skin looks great. All of them clean without stripping. You will not be disappointed!
Great Product
I ordered several of the soaps and was very pleased with all of them. I was even more happy to know my money's going towards a great cause. I will definitely be ordering more!
Smelling Great AF
Boy does this soap smell great! I get compliments all the time. I use it as a body wash, and people notice!