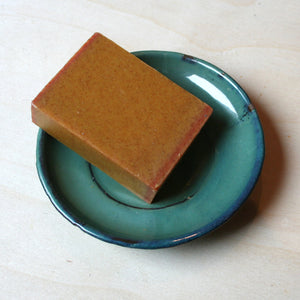 "Know Peace™" Handmade Soap
Self-care manifested into a bar of soap, Know Peace simultaneously uplifts and centers your senses with the perfect balance of earthy citrus oils. Each golden bar of self-care lathers into a rich, creamy velvet that leaves the skin feeling refreshed, moisturized, and pleasantly scented.  
Ingredients: olive oil, shea butter*, coconut oil*, avocado oil, castor oil, ground turmeric, lemongrass oil, lemon oil, eucalyptus oil, cedarwood oil.
Features: Handmade in USA; all natural; cruelty free; vegan; fair trade ingredients (indicated with an asterisk)
Size: 4.5 oz
Cost: $9 
*This item cannot be returned/exchanged
Baby shower party favors
As soon as we received the soaps, the AROMA was amazing. They smell so beautiful and are the perfect size to send home with guest. We got so many compliments on the soaps.
This is not my first purchase and it definitely will not be my last.
Soap
🔥 ignant. Best soap in the country.
Good Soap
This soap is very good! You will enjoy the smell and the feel.
Great Soap
I am loving this soap! It has a great lather and subtle scent. I have sensitive skin and this soap feels soothing and doesn't make me itch at all. I will definitely order this again.
FreshTNL
I am extremely happy with the "Handmade Natural Soaps" and will continue using the product.