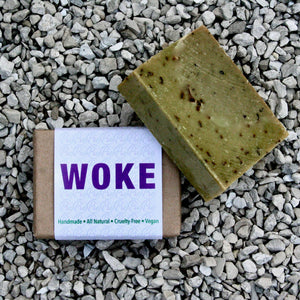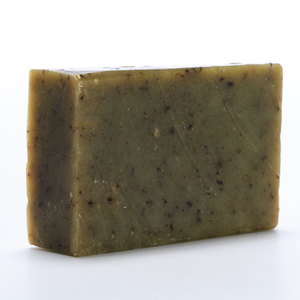 Peppermint, Red Clover Flower Infusion and eucalyptus oil deliver a deep cleanse and cooling sensation that clarifies and nourishes the skin. The rosemary and lavender compliment the mints; together, they activate your senses. Don't be afraid of the green color; it's spirulina known for its anti-aging effects.  
Ingredients: olive oil, shea butter*, coconut oil*, avocado oil, castor oil, spirulina, crushed peppermint leaf, crushed red clover leaf, peppermint oil*, spearmint oil*, eucalyptus oil, rosemary oil, lavender oil.
Features: Handmade in USA; all natural; cruelty free; vegan; fair trade ingredients (indicated with an asterisk)
Size: 4.5 oz
Cost: $9
*This item cannot be returned/exchanged
Great Products and Amazing Service
I love these soaps with all my heart and every chance I get I order them for myself and as gifts. Woke is excellent and is a great start to your day. Buying is easy a shipping is less than a week!
Best soap
The packaging was excellent, arrived very quickly and most importantly the soap smells amazing! They are excellent gifts, great price and quality. Thank you for such a wonderful product. Definitely recommend.
Wake-up Call
This soap is a great pick-me up! I've gifted it to friends who experienced Seasonal Affective Disorder to help them jumpstart their energy. It's not a cure by any stretch, but it's been helpful!
"Woke" Handmade Soap
Loved the peppermint smell of this soap. Very calming!
FreshTNL
Ever since my first try of the soaps it's the only cleaner I use on my body. I have also recommend this product to my family and friends.