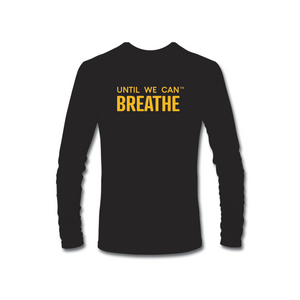 Until We Can Breathe Long Sleeve T-Shirt
Style: Unisex Long Sleeve T-shirt

Size range: XS - 3XL

Fit: Standard Fit, will not shrink

Details: Color- Black; Fabric- 100% certified organic cotton

Features: Sustainable and environmentally friendly, sweatshop-free, made in the USA
Stand with the Black community by wearing this comfortable t-shirt from PIE (Purpose In Everything). This unisex, pro black t-shirt is perfect for any occasion and makes your beliefs clear, without saying a word. The powerful message of "Until We Can Breathe" recalls the final words of Eric Garner and George Floyd, "I can't breathe." Speak out against police brutality in the U.S. with this shirt.
Range of Sizes
Available in sizes XS to 3XL, this pro-black apparel is a great fit for wearers of any size and shape. Anyone who wishes to stand with the Black Community can find their perfect size, and share a powerful message with all who see it. Its unisex style makes this apparel ideal for all body types. Stand in solidarity with Black Lives Matter and racial justice.
Material Type
This racial justice t-shirt is made with 100% certified organic cotton, making it great for all seasons. This shirt is guaranteed to be the most comfortable t-shirt you own. The night black color allows for the words to be displayed boldly and brightly.
Sustainably & Ethically Produced
All merchandise from this black/woman-owned company is sweatshop free and environmentally friendly. Made in the USA, these t-shirts are both sustainable and ethically produced. That means buyers can purchase them and feel good about the fair labor paid and benefit made to environment.