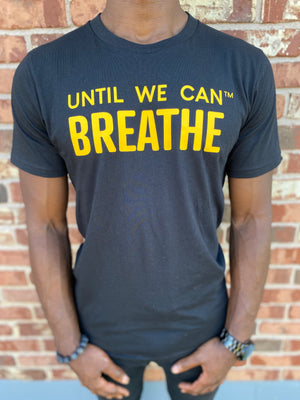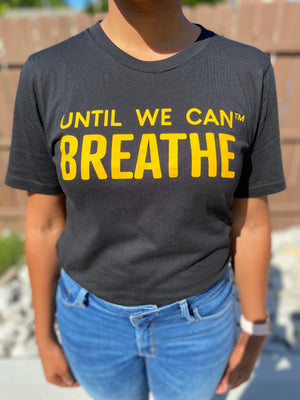 Until We Can Breathe Short Sleeve T-Shirt
Stand proudly as a member or ally of the Black community in the United States with this comfortable and versatile t-shirt from PIE (Purpose In Everything). This unisex,
pro black t-shirt
is easy to slip into and wear for any occasion where you want your voice to be heard. Its powerful message of "Until We Can Breathe" calls back to the trauma and pain that the community has gone through for decades, highlighting both the deaths of Eric Garner, famous for his last words of "I can't breathe" before suffocating at the hands of police officers, and the loss of many innocent Black lives since. The shirt continually allows its wearer to speak out against the seemingly never-ending reality of police brutality in the U.S.
Range of Sizes
Ranging in sizes between XS to 3XL, this piece of black apparel is intended for wearers of any size and shape. Anyone who wants to share their voice and stand with the Black Community can find a size that works for them, allowing its powerful message to resonate with whoever views it. Its unisex shape allows for wearers of all body type to sport it whenever the opportunity arises to stand in solidarity with Black Lives Matter and movements like it.
Material Type
This Black pride t-shirt is made with 100% certified organic cotton, allowing it to be worn in virtually any weather type. The breathability of cotton makes this shirt ideal for both hot and cold environments, as it will hold in heat and allow for air to travel through as the weather dictates. The color of the shirt is a bold night black which allows people to easily make out the powerful text displayed on the shirt's front.
Sustainably & Ethically Produced
This black-owned t-shirt company only works with laborers who have a say in how their work is compensated, meaning no sweatshops were utilized in its production. Made in the USA, these t-shirts were made sustainably so as to be environmentally-friendly, meaning there were no negative effects to their environment during production. That means buyers can purchase them with a guilt-free conscience.
Style: Unisex Short Sleeve T-Shirt

Size range: XS - 3XL

Fit: Standard Fit, will not shrink

Details: Color- Black; Fabric- 100% certified organic cotton

Features: Sustainable and environmentally friendly, sweatshop-free, made in the USA 
Until we can breathe
I love my t shirt. I love the look and feel of it.
Also it fits perfect!!!
Until We Can BREATH
I will wear this tshirt until the letters fall off. God help us!